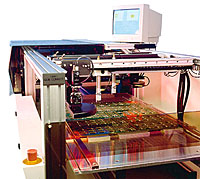 Our 2444AV printer is scalable and can be customized to meet your specific needs.
Thanks for visiting our Web site!
Surface Mount Techniques is the second largest manufacturer of surface mount printing systems in North America. We are now well into our 20th year of providing the highest quality solder and adhesive printing equipment to the electronics industry.
Engineered for flexibility, all of our products meet the printing challenges you have today and many can be upgraded to meet future needs and adapt to changes in technology.
Surface Mount Techniques is the first manufacturer solely devoted to serving the SMT industry. Because we have listened and responded to you--the user--we have developed the broadest line of printing equipment with the most custom capabilities available in the industry.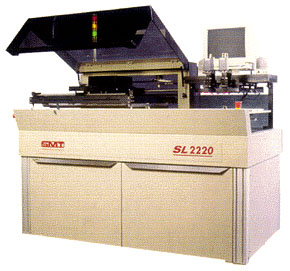 The SL2220: standalone, semi-automatic, high precision printing.
Whether your application is lab/prototype or high volume, semi-automatic, or fully automatic in-line with automatic vision, PCB, flex circuits or other substrates, we have a system to meet your budget and throughput requirements.
From upgradeable vision to programmable squeegees, Surface Mount Techniques allows you to custom design your printer with the security that it can be reconfigured when needed.
All of our printers are, of course, fine and ultra-fine pitch capable, and they offer you the most flexibility, the largest available print size, and the easiest accessibility--as well as the industry\'s best service and support.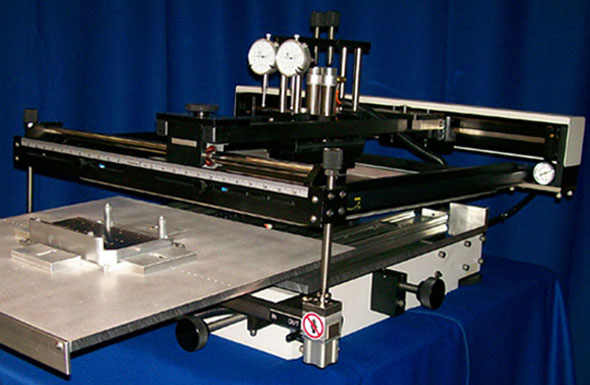 The 1616TCS: Thermal Grease Printer, semi-automatic, precision printing for heat sinks.
Check out our latest printers for Thermal Grease applications!
Surface Mount Techniques is pleased to introduce a new line of stencil/screen printers specifically designed for thermal grease applications. The printers accommodate many heat sink designs such as thick, odd shaped aluminum blocks. The line ranges from bench-top R&D to fully automated high volume production machines. Please see details in our latest press release \'Thermal Grease Screen Printers\'.
Contact us today and let us send you descriptive literature about our SMT printers, tooling and vision options, and accessories. One of our area representatives will be happy to help you identify the right system for your application\'s requirements. Please see the contact information below to receive additional information.